Forward:
This guide will show you how to join our server and navigate it. It's meant to assist you with quickly getting into the action!
Joining our server:
Click on this link:
https://discord.gg/UVzSQNBPm8
and it will open up your web browser, if you have the Discord app installed it will automatically open it up. Otherwise it will continue through the web browser. This is what it will look like when it automatically opens up the app:
You obviously want to click on "Join HelloClan".
Navigating our server:
Immediately clicking join, you will see this:
This is the welcome screen, it has quick links preset. The most important one is the one that says "
Start here for our rules and info!
". But if you aren't too bothered with that at the moment, you can skip right ahead and click on "
Select your roles here, it's a must!
". Please see the
Setting yourRoles
section below for more info on that.
Assuming you click on either, or none and click on "I'll just look around for now" at the bottom of the welcome screen, you will see that our server appears to be quite bare.
Our #readme-rules channel is the start of the server, so you will likely be in there. Note that you can see other members at the moment, but you can only see our Information and Announcements & Event's sections. There is a few more, but we'll get to that in a bit. As you are currently somewhere in the Information section, let's take a off track moment.
Take a look at the screenshot below:
Notice there is a white dot next to the #member-log channel? That means there's a new message in there, but further if you notice the encircled red "1" at the end of the line, that means that you have been mentioned! Let's see what this mention is!
Ahh it's just our friendly bot, letting us know that we joined and what our member count is. It is also reminding us to set our role, that takes us back on-track and puts us on our next step. Sidenote: this was just to show you how mentions work and how to tell if you have been mentioned or if there is a new message inside a channel.
Setting your Role:
Roles are a sort of permission, because our Discord server is growing, we have quite a few categories. So to make things more streamlined, we've setup roles. Each role allows access to a certain section of our Discord server. I am going to use two Roles here as an example.
Firstly, click on the #get-your-role channel under our Information section. Once inside this channel, you will see that there is a message that describes what roles are available. After this message, you will see this:
Please note that these roles may change without notice, that is why it is always advised to keep an eye on the message that describes each role.
All of these reactions below the Arcane bot message are roles. Click on any one that you want and you will automatically be assigned the role.
So, for example, I want the Verified role because it allows me access to HelloClan's General section, thus I want to click on the green tick with the numbers next to it at the bottom of the message (this is what is called a reaction).
Upon clicking this role, I can now see the General Stuff section:
Perfect! But now, I play BFV, so I also want the Battlefield Vietnam role, so I will repeat the step and click on the "OK" reaction, now I will have the Battlefield Vietnam role and I can see the Battlefield Vietnam section:
And that is how roles work! You can also remove yourself from a role by again clicking on the reaction that belongs to the role you no-longer want. Feel free to now explore the rest of our server! Checkout our affiliates, visit the media channels etc!
Joining a voice channel:
By default, Discord should automatically configure your input (microphone) and output (speakers / headphones) for use. If it does not, you can fix this on your own by doing the following:
Note the buttons in this picture below: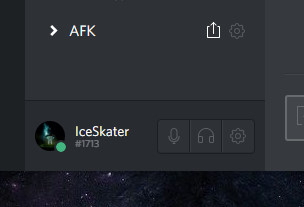 Click on the cog icon, the one next to the headset icon and it will open up the settings menu. This menu will look like this: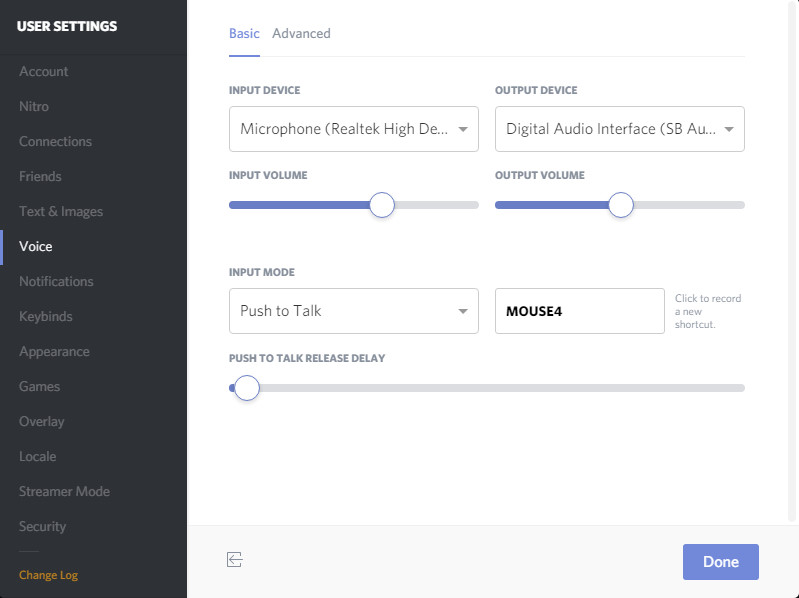 I have already clicked on the "Voice tab on the left hand side menu, you will need to do this your side to see the above menu.
Here you will select your input (microphone) and output (headphones/speakers) devices. You need to choose the ones you are using as everyone's pc varies. Remember you can change both your microphone and speaker volume on that same window. Also remember to select Push To Talk from the drop down menu below the volume sliders. Next to that option you will be able to select what key you want to use for talking. That's the basic setup for the Discord application! You can tweak it to your liking if you wish, it has many features and options.
A more advanced setup that includes noise cancelling can be found here:
Discord Voice Chat Settings Tutorial | HelloClan
Connecting:
Hey, there are people inside a voice channel, let's join them! To join a voice channel, you need to just click on it. So say I want to join the General voice channel as shown below, I will just click on it and I will connect.
Start talking! If you have any issues, use the text channel above any voice channel that you are using to communicate and one of us will assist you.
To disconnect, just like putting down a phone, when you want to disconnect you need to click on the button that is circled in red in the above image for illustrative purposes:
That's it! Enjoy communicating on our Discord server!